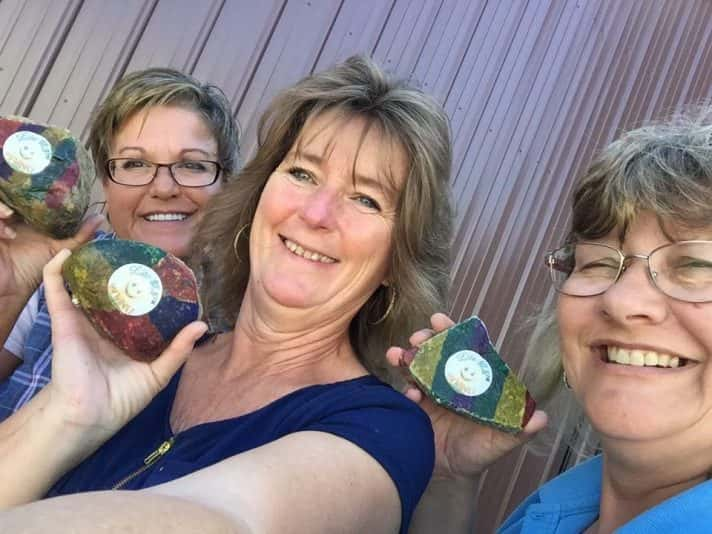 DO YOU WANT TO WIN A PAIR OF TICKETS TO EVERYTHING WVNU GETS FOR 1 YEAR??!!  WOULDN'T THAT BE SOMETHING?!
THAT IS THE GRAND PRIZE FOR THIS YEAR'S WE WILL ROCK YOU, CONTEST
OUR STAFF HAS PLACED 19 WVNU ROCKS (SOME RAINBOW IN COLOR AND SOME ARE LIGHT BLUE AND YELLOW BUT ALL HAVE AN OFFICIAL 97.5 STICKER) INSIDE OR OUTSIDE OF AREA BUSINESSES IN FAYETTE AND HIGHLAND COUNTIES.
FIND A ROCK
TAKE A PIC WITH THE ROCK AND THE BUSINESSES SIGN OR STOREFRONT
SEND THE PIC TO WVNU FB MESSENGER
 WE'LL KEEP TRACK OF YOUR ENTRIES
ON THURSDAY, NOVEMBER 30TH, WVNU WILL DRAW A WINNER FROM ALL OF THE PIC ENTRIES. THE MORE LOCATIONS AND PICS YOU ENTER, THE MORE CHANCES YOU'LL HAVE TO WIN. example:  Jane Doe has one entry and Jon Doe has 19 entries – Jane Doe could still be the winner
Thank you to our sponsors:
First Choice Glass – WCH ** Magulac Tire – Hillsboro ** EZ Oil Change – WCH ** Chiropractic Health & Wellness – WCH ** Awesome Real Estate – WCH ** Thompson Family Health Care – WCH ** Southern State Community College – Hillsboro ** Country Pride Restaurant – Jeffersonville ** Terry's Grocery –  Lynchburg ** The Merchants National Bank – WCH & Greenfield ** The Print Shop _ WCH ** Jim VanDyke's Automotive Center _ WCH ** Leading Edge Technologies _ WCH ** Our Place Restaurant _ WCH ** Reiterman Feed & Supply – Mt. Sterling ** Fayette Veterinary Hospital – WCH ** Ranchers Roast Beef – WCH & Greenfield